A message from our Club Pro, Gabriel.
Hi my name is Gabriel Girard. I was born and raised in British Columbia but am now residing in Nova Scotia. I started playing tennis at the age of 8 with my best friend and his dad who was our coach. While completing my undergrad (6 years ago), I had the opportunity to run a tennis camp in Wolfville, Nova Scotia, and have been doing so ever since. During my 2nd year of instructing, I received Tennis Nova Scotia's Coach of the Year award. Coaching tennis has had a huge impact on my life and even inspired me to change my area of study. I just recently received my Kinesiology degree, with a focus in biomechanics, from Acadia University. I cannot wait to meet everyone and experience all of the beauty the north has to offer.

See you soon,

Gabe
A message from Assistant Coach, Tamara Jovic
My name is Tamara Jovic, and I was born and raised in Yellowknife. I started playing tennis when I was 5 years old with my dad (and coach), Nik. I now go to the University of Calgary and am completing a Bachelor of Science with a major in chemistry. I also play on the Dinos varsity tennis team. In 2016 I completed the Instructors course, in 2022 I completed my Club Pro 1, and I am now taking my Club Pro 2! Aside from tennis, I enjoy playing other sports, going to the gym, and playing piano. I finished my Grade 10 Royal Conservatory of Music in 2019. I participated in the 2015 Western Canada Summer Games in Swimming, 2016 Arctic Winter Games for Table Tennis, and the 2017 Canada Summer Games for tennis. Last year I was the assistant coach at the 2022 Canada Summer Games in Niagara. I am super excited to see what this tennis season has to offer. See you on the courts!

Tamara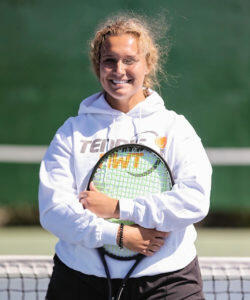 A message from Assistant Coach, Niki
My name is Nikhilesh Gohil and I was born and raised in Yellowknife. I began playing tennis when I was 11 years old after watching Roger Federer, the GOAT, win Wimbledon in 2017. Since then, I have represented Team NT in tennis at the 2019 Western Canada Summer Games and the 2022 Canada Summer Games. I am a certified tennis instructor. I am very much looking forward to another great tennis season this summer! See you guys out there!
There are more instructor bios to come.
We have a variety of qualified coaches to work with a range of player needs and abilities.
Contact us to find the best match for your tennis needs.